Welp, sonofagun if we didn't waltz right through Christmas with nary an accident, incident or a Cousin Eddie experience. Had a little Christmas feed here at our house yesterday with the same crew as the day before minus my cousin and her husband. Excellent food crowned by an Italian Wedding Cake that I was gifted with by my dear ol' buddy Gramma Jane. I built Jane an oak, stand-alone pantry with a feature that she's never had ever before in her life... full extension pull out shelves. From what I hear everyone that visits her now immediately gets the tour of the new pantry, and she pulls out each and every one of the shelves to show 'em how easy it is. She's cuter than a basketful of kittens at someone else's house, ain't she? Anyway, she informed Sal that she had something for me for building the cabinet. Sal said, "You've already paid him Jane." She informed Sally that she had something much better than that old cold, hard cash.
It was VERY good.
Among some other nice gifts, Sally got me a new mandolin a few days before Christmas as it's sorta something you need to pick out yourself and play and stuff. It's a very nice instrument and sounds like a dream.
Here's a link
to download what she sounds like. Just a little 30 second tune on it.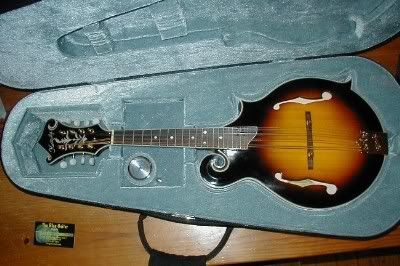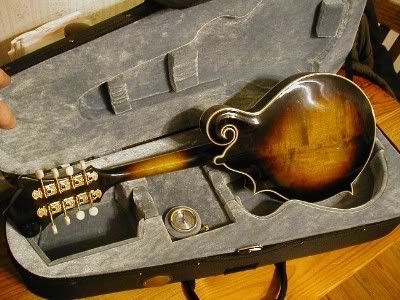 Sal got a complete new set of KitchenAid pots and pans in
BRIGHT RED
to go with our restored 1940's Magic Chef range. She was thrilled stupid and they look awesome in her kitchen.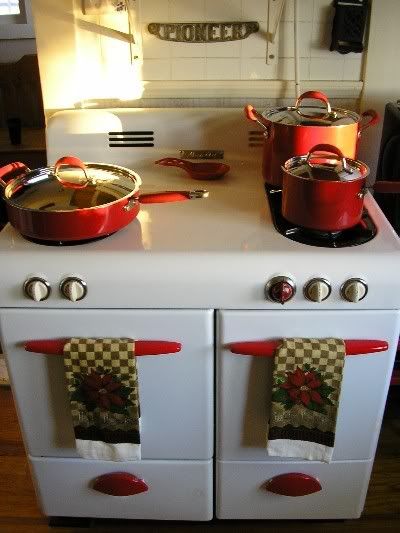 That's 'bout all of that for awhile I guess, it'll be here again soon enough and much sooner than we think.
An interesting turn of events with my folks and their ginormous TV, but I'll probably have to throw out the whole story of it coming to be first, maybe tomorrow.