Yesterday was the day we went over to my buddy Gary's place and planted his new TV tower. It was quite an experience with a few scary moments, lots of excitement and fun.
I'll back it up a bit. Gary is always looking for a "deal" and he found a humdinger with this tower, bought it used somewhere down around Kansas City. He got it home and then spent the better part of a month bouncing ideas off me about just how the heck to get it up in the air without killing any of us. With a pond immediately behind his house, putting it together on the ground and then pulling it up was out of the question. Finally he devised this plan to set up scaffolding and hang a block and tackle on it and we would pull it skyward 10 feet at a time with his pickup truck. At each 10 feet he would slide another section under it and bolt it up. We had it passing through a loose chain on the edge of the roof, that would steady it there, then we had 4 cables fastened to the very top. My son and I would hold these and keep the thing vertical (hopefully), and then they would be the guy wires when it was fully erected.
We did put together 3 sections on the ground and I started it up while Jake and Gary pulled it up from the rooftop. That's 30 feet with another 10 foot pipe on top of that, that can be slid up another 10 feet if need be. Here's the first section standing up. This is also when the wind kicked up with some 20-25 mph gusts giving us a few hairy moments.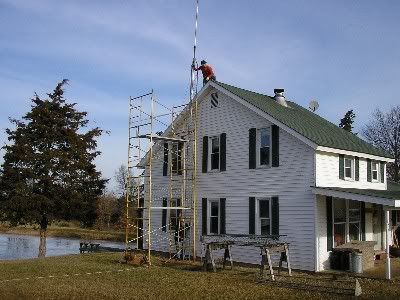 And here's Gary's dog, Max with a worried look on his face. Dog's can sense things you know.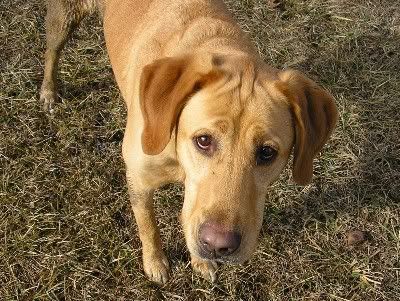 The catch phrase for the day for me and Jake was to quote Raymond's dad with loud and intermittent screamings of "HOLY CRAP!" Everytime we did it Gary would turn into a statue for about 3 seconds and then yell at us "WOULD YOU GUYS STOP THAT?!?!" Of course we didn't and kept it up for the entire adventure.
You gotta get your entertainment where you can find it, you know.
About 2 hours later, we had all 7 sections up and bolted down with the guy wires attached too. Not bad, eh?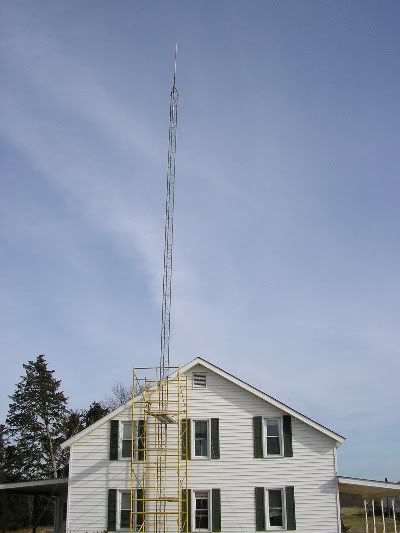 We were all kinda in awe of just how insanely tall this thing is that we just stuck up in the sky... pretty ridiculous considering the Yaa Hoos that put it up. Gary's place is off the beaten path somewhat, his internet connection is dialup only and no chance of getting anything faster hardwired in 'cause all of his neighbors are Amish... and well, they don't have much need for internet and the phone company ain't too interested in being a non-profit organization. So, he concocted a deal with the local wireless interenet company to poke this giant tower up and they could put a signal repeater on it in exchange for free high speed service for Gary. They went for it. LOL
He's gonna put a good HD tv antenna up on it as well, 'cause he's far enough out in the sticks he doesnt get local programing. I think it's high enough.
I had a video of the whole thing, but that didnt' work out... but I've got one last picture. As we left their house, we took a picture from the main road. A giant tower that appears to just jut out of the trees.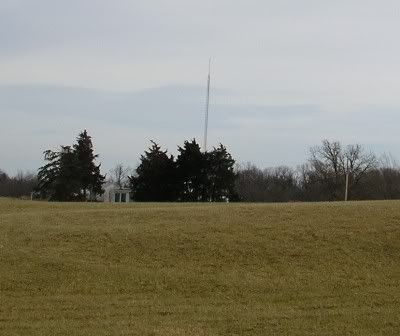 Okay, I can add this to my resume!